New RSS14 Support in B-Coder Pro!
TALtech is pleased to announce support for the RSS14 (Reduced Space Symbology 14) bar code Symbology in B-Coder Professional.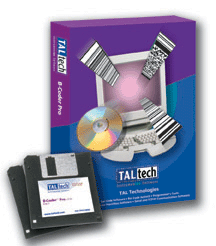 TALtech is pleased to announce the addition of the new RSS-14 bar code symbology to one of its most popular bar code generating software products, B-Coder Pro.
B-Coder Pro and TALtech's other bar code software products create the highest quality bar codes possible in the Windows environment. B-Coder Pro bar code generating software is designed to generate film-quality bar code graphics for use in any application. It produces bar code images for use in documents or labels created with other programs such as MS Word, Adobe PageMaker, Quark, etc. B-Coder Pro actually automates bar code printing on labels and documents from MS Word. It supports all major bar code symbologies including Code 39, UPC, EAN, Codabar, Interleaved 2 of 5, Code 128, EAN/UCC 128, and many others including 2-D symbologies such as PDF417, Aztec and Data Matrix. It also supports all features of bar codes including rotation, text, color, bearer bars and quiet zones. It is extremely easy to use and designed to ensure perfect bar codes every time. Check digits and other security features are calculated and added to bar codes automatically.
The latest version of B-Coder Pro v4.0 provides complete support for:
RSS-14
RSS-14 Stacked
RSS-14 Stacked Omni-directional
RSS Limited
In addition to being able to produce the linear portion of a RSS symbol, B-Coder also supports the optional two dimensional composite components supported in the RSS symbology specification.
B-Coder supports all the features necessary to produce professional quality bar codes for any application - product packaging, document tracking and specialized bar code labeling. Perfect bar codes can be printed on documents and labels and then printed on ANY printer, including laser, ink jet and dot matrix printers.
RSS Background Information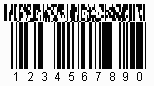 RSS was developed by the Uniform Code Council, Inc. to answer business needs of its 200,000 member companies in North America. The purpose of the code is to increase the amount of information that can be put into a bar code while decreasing the overall area of the code. The code will allow businesses to improve the stream of information and to match that information to the actual flow of product.
This type of code is particularly useful for applications where space limitations are a concern. Industries such as pharmaceutical, healthcare, logistics and transportation, and supermarkets have recently begun utilizing this new symbology. RSS allows businesses to go beyond the typical manufacturer and product identification information embedded in a bar code. The healthcare industry views this symbology as a potential way to significantly reduce medication errors. The RSS technology also improves the labeling and tracking of food items. It gives supermarkets the opportunity to improve their labeling and tracking of meat and produce items. The code can be encoded to include manufacturers name, item identification number, weight, extended price, and the ability to place best if used by dates on items. Consumers also benefit by added consumer safety. If a bad batch of produce is placed on the shelves, a supermarket will have the ability to track down the produce immediately and remove it from the shelves.
Back to Blog