In order to run Active Server Page code, you must have one of Microsoft's Web Server products installed. Microsoft's primary web server product is "Internet Information Server" (IIS) which is a rather large application designed to run on Windows NT or Windows 2000 based Internet web servers. It is normally not run in a desktop PC where you would typically do the development of your web pages. To make the task of developing and testing web pages easier, a scaled down version of IIS called Personal Web Server (PWS) is available from Microsoft that can be run on any Windows 95, 98, NT or 2000 workstation. PWS does not require any connection to the Internet therefore you can do all your development and testing off-line.
Personal Web Server (PWS)
To Install PWS on Windows 98:
insert your Windows 98 operating system CD into your CD-ROM drive.
Click on the Start button and choose Run.
In the Run Dialog box type X:\add-ons\pws\setup.exe (where X is the drive letter of your CD-ROM drive) and click OK.
Follow the instructions on the screen to install PWS.
Microsoft Personal Web Server is available for free download at the following Web address:
If you need to install PWS on a Windows 95 or Windows NT Machine, you must install it from the Windows NT 4.0 Option Pack, which also includes a Windows 95 version of PWS.
Windows NT Users should download it from:http://www.microsoft.com/ntserver/nts/downloads/default.asp#RecommendedUpdates
Windows 95 Users should download it from:
http://www.microsoft.com/msdownload/ntoptionpack/askwiz.asp
NOTE: Because these Microsoft Web sites are constantly updated, the site addresses may change without notice.
Internet Information Server (IIS)
Microsoft Internet Information Server (IIS) is a web server that integrates into the Windows NT Server. IIS allows you to publish information on the World Wide Web and to run multiple business applications using ASP.
Make sure you have Service Pack 3 (or higher) and Microsoft Internet Explorer 4.01 (or higher - recommended) installed on your Windows NT Server before you install the Windows NT 4.0 Option Pack. It is recommended that you apply Service Pack 4 for Windows NT after installing IIS. Note: You must reapply Service Pack 4 to your computer when you install a new component of the Windows NT operating system or the Windows NT 4.0 Option Pack.
Getting Started
Before jumping straight into Server Side Scripting for the TALtech ActiveX Plus, we recommend testing your web server to make sure that it is correctly configured to work with Active Server Pages (ASP). Some older versions of PWS, such as the one installed with Microsoft FrontPage 98 (AKA "FrontPage Web Server") do not install support for ASP by default. If your Personal Web Server looks like this: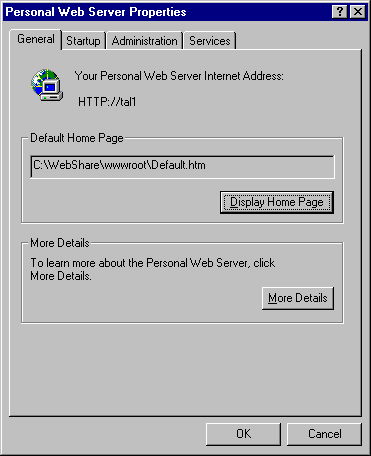 Then you may wish to upgrade it. Below is a simple ASP file that can be used to test the server.
Copy and Paste the code below into Notepad. Save the file as Test1.asp into the home directory of the default Web site that was installed with PWS or IIS (Usually C:\Webshare\wwwroot or C:\InetPub\wwwroot by default.

	<HTML><BODY>

	Output:<BR> 

	<%

	intS = 60*60

	%>

	There are

	<%

	Response.Write intS

	%>

	seconds in an hour.

	</BODY></HTML>
You can access the ASP page Test1.asp by typing the following URL in your Web Browser: http://localhost/Test1.asp
You should see:

Output:
There are 3600 seconds in an hour.