Bioproducts Incorporated
Ability to plot real-time data in Excel to monitor tank levels
Cost effective
Very Easy to set up and use
Ensures complete data accuracy
For over seventy years, Bioproducts Incorporated has been a leading developer and manufacturer of solutions for livestock, poultry and pet food industries throughout the world. Specialty items include, QC Choline chloride, Bioflavors palatability, enhancers for pet foods, Ender Gill calcium salts of fatty acid, Bufferight sodium bicarbonate, and Nutrius specialty dairy products. Bioproducts Incorporated operates plants in California, Kentucky, Louisiana, Missouri, and Nevada.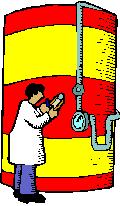 The Louisville KY plant runs a tank farm consisting of a series of silos and liquid tanks that contain various raw materials and finished good products. Some of these tanks are large and remotely located. The plant runs 24hrs a day 7 days a week. A normal week will consist of four shifts with a shift supervisor on location at all times.
Bioproducts Incorporated is another satisfied user of TAL Technologies WinWedge software. The WinWedge software, resides on the shift supervisor's Windows 95 PC allowing the tank farm to be monitored 24hrs a day. The supervisor is responsible for watching the level of the tanks for inventory and production reporting purposes. This was done by installing a Milltronics multi-tank ultrasonic level monitoring system. At fifteen second intervals, WinWedge sends an ASCII message to the milltronics system requesting data. WinWedge feeds this data over a DDE link into an Excel spreadsheet and automatically runs an Excel macro to sort the data.
Shift supervisors at the plant have commented that they can not do their job efficiently without WinWedge! Bioproducts claims they find WinWedge very useful. They have purchased an additional copy for their Las Vegas facility. Mr. Don Yates, Instrumentation Supervisor, comments that eventually, the company would like to put this system on their WAN so it can be monitored from multiple remote locations simultaneously. They are looking at TCP-Wedge and TCP-Com to accomplish this.
Overview of the system
Milltronics multi-tank ultrasonic monitoring system measures the level in each tank.
The data is sent directly to the RS232 port of the Shift Supervisor's PC
WinWedge parses, filters and formats the tank lavel data and feeds the data real-time into an Excel spreadsheet.
The real-time tank levels can be easily viewed and monitored in the Excel spreadsheet by the Shift Supervisor.
View All Applications