Pharmaceutical
Ability to interface over 200 different types of instruments to a UNIX based LIMS
The ability to run multiple instances of the WinWedge to collect data from instruments though multiple serial ports
A pharmaceutical company headquartered in Raritan, New Jersey with additional facilities in Pennsylvania, California, Canada and Switzerland is using WinWedge Pro to automate its laboratory instrumentation data collection.
Lab Automation
The company purchased Hewlett Packard's CHEMLMS LIMS product. The LIMS operates from a UNIX environment and is accessed from workstations running Windows or System 7 (MACs) using an X-Windows terminal emulator. The network operating system is DEC's Pathworks. The LIMS workstations are on an Ethernet under the network protocols DECNET and TCP/IP stack for DOS nodes and ETHERTALK and TCP/IP for Macintosh nodes. (A thick wire Ethernet splits into thin wire Ethernets to access each workstation).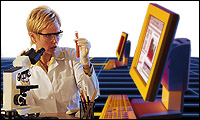 The Lab Automation Group at the company has written a Visual Basic application that incorporates the WinWedge Pro to acquire data from all the different laboratory instruments. The raw data collected by WinWedge is then transferred via Net DDE and FTP's PCTCP (network software from FTP Software) into the UNIX server to be utilized by HP ChemLIMS (Hewlett Packard's LIMS).
Basically WinWedge collects data from 200 various instruments and makes the data available over the network. HP's LIMS software then interfaces the data through the network.
LIMS Configuration
Workstations are set up throughout the research facility to collect data from all the different laboratory instruments into the LIMS running under Windows. These are not full blown LIMS stations. They are not configured with Pathworks but with TCP/IP to collect and transfer data into the LIMS only. The desktop workstations are configured with RS232, TCP/IP, FTP PC/TCP (network software from FTP Software), and a DEPCA card (network card from DEC) 486 laptops are provided to labs where space is very limited and these are configured with RS232, TCP/IP, FTP PC/TCP, and a PCMCIA card.
Lab Instruments
Researchers collect data from a wide array of sophisticated laboratory instruments into their LIMS. They use WinWedge and FileWedge (a utility that comes free with WinWedge Pro) for real-time data acquisition from all the instruments that are interfaced to the LIMS, including:
Electronic Balances Threshold Systems
PH/ion meters/analyzers Titrators
Spectrometers Hardness Testers
Plate Readers and Scintillation Counters Bubble Surfactometers
Particle Measuring Systems ....and many other instruments....
In fact they collect data from over 200 instruments in all using WinWedge and from various data files using FileWedge.
The WinWedge Solution
The Lab Automation and Engineering Group at the company tested WinWedge and FileWedge and found great versatility in creating different and sophisticated parsing schemes to manipulate the data from all the different instruments. FileWedge was also very useful as some of the raw data for the LIMS originated from files or from contract labs (external labs) not directly from instruments at the research center.
Some features of the WinWedge that the engineers at the company say they were particularly pleased with:
The ability to run multiple instances of WinWedge to collect data from instruments though multiple serial ports.
The advanced DDE capabilities that enabled them to create sophisticated data collection and device control interfaces.
It is user-friendly making their job much easier.
It takes up very little in the way of hard disk space and RAM to operate and store.
It has low maintenance requirements.
An engineer who was part of the LIMS task force, adds that "WinWedge and File Wedge have performed consistently and smoothly for our application. I highly recommend them for similar laboratory data collection applications".
View All Applications