Balance Data Direct into Excel or Any Windows Application with WinWedge
How to Easily Collect Data from RS232-USB-Ethernet Balances (and other Laboratory or Measuring Devices) into Excel using WinWedge software.
With WinWedge software, from TALtech, you can easily link real-time data from any serial (RS232 or USB) or Ethernet-connected balance or other device directly into MS Excel or any Windows application.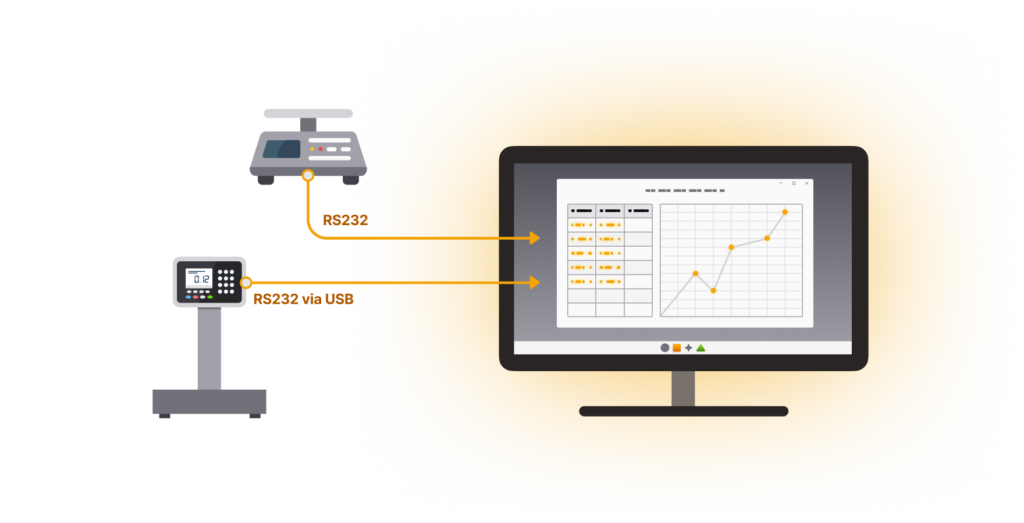 Go to the WinWedge and WinWedge Pro informational pages.
Watch Balance and Scale Data Collection videos here
Download a FREE trial version of WinWedge Pro
Easily link all your balances to Excel and start collecting data today with WinWedge software.
WinWedge is designed to be highly flexible and can easily parse, filter and format your serial RS232/USB data. This software feeds device readings, date, time and other data directly into Excel, any other Windows applications, web forms or data files.
You can even transmit prompts or commands from the PC to control your balances to request weight readings on demand or on an automatic timed basis.
If you are using Excel, WinWedge can separate the RS232 device data into different columns and strip the unit of measurement from each reading if needed. You can easily utilize Excel's graphing and charting tools to visualize the data in real-time or in reports.
Our support staff is very familiar with using WinWedge to collect data from any balance or scale. If you need any assistance determining if WinWedge is right for you or setting up WinWedge to collect data from your balance or device, we're here to help so don't hesitate to contact us, 800-722-6004.