Features
Explore the feature-rich options of our Barcode ActiveX control.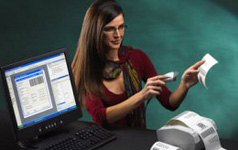 TALtech's Barcode ActiveX Control supports all commonly used barcode symbologies and it allows complete control over all features of each individual barcode symbology including: Precise control over all barcode dimensions, full selection for the foreground, background and text colors, symbol rotation in 90 degree increments complete font selection for the human readable text above or below a barcode symbol. Support for all major linear barcode symbologies such as Code 39, UPC, EAN, Code 128, PostNET, CodaBar, BookLan, HIBC and Interleaved 2 of 5. Support for the newest two-dimensional barcodes including PDF417, Aztec Code, Data Matrix, MaxiCode, and RSS-14 with the Plus Version. The control is also a data bound control which allows you to easily incorporate it into database reporting and labeling applications. The TALtech Barcode ActiveX Control is the most advanced barcode development tool available on the market today. Plus it comes with Royalty Free** Distributio.
High Resolution Graphics
The TALtech Barcode ActiveX Control produces high resolution Windows Metafile (vector) graphics that are completely device independent, fully scalable, and will print to the highest resolution of any printer supported by Windows. No knowledge of the printer resolution is required in advance, the graphics that are produced are extremely precise and require minimal system resources, and all barcodes produced with the TALtech Barcode ActiveX Control will display and print lightening fast.
Save Barcodes in All Major Graphic File Formats
In addition to being able to render all barcodes directly to an output device, the TAL Barcode ActiveX control also provides a "SaveBarCode" method that allows you to save barcode graphic images to a disk file as a vector style Windows Metafile (WMF) graphic. The Plus version of the ActiveX Control also allows you to save barcodes to disk in all major raster style graphics file formats including GIF, PNG, JPEG, TIF, PCX, BMP and TGA (vector based EPS files are also supported). The GIF, PNG and JPEG capabilities allow the control to be used as a barcode graphic engine on a web server. Complete control over the pixel resolution and pixel color depth is also supported allowing you to produce extremely hi resolution barcodes in all graphic file formats.